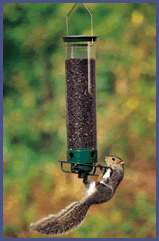 The Hottest Product in the Wild Bird Feeder Market (is the claim)
After years of development and testing, Droll Yankees (the manufacturer of the Yankee Flipper) is proud to offer the most effective squirrel-proof bird feeder in the world. If you have birds in your backyard, you will want to see this thing in action.

Unlike other squirrel-proof bird feeders the Yankee Flipper is based on the revolutionary concept. This concept prevents the neighboring squirrels from monopolizing your backyard bird feeder. Most feeders attempt to block access to the bird seed from the squirrels. The Flipper sends squirrels flying. Although the Yankee Flipper is a bit more costly than most feeders, you will save the difference in cost of
bird seed
in just a few weeks (depending on how many and what type of birds are in you abode)
This award-winning bird feeder is considered the
most entertaining
and effective squirrel proof feeder in the world.
Remember that this feeder has motorized parts .. there are a few more precautions when using this bird feeder. Remember to keep the
Yankee Flipper
out of reach of children and pets. Do not immerse the base, power-stick or charger of the Yankee Flipper birdfeeder in water.
After charging the charger fill the feeder with sunflower seed, safflower, sunflower hearts, or your favorite specialty mix.
Premium black oil sunflower seed
is highly recommended as it is very nutritious and attracts the widest variety of birds.

Hang your feeder securely on a rigid hook. Attach a Droll Yankees Locking Chain for added security.
Use coupon code:
googlerocks
and save $5.00 immediately on the Flipper at Rachel's Robin.
Labels: Bird Feeders